Torchlight procession of the ski instructors
Courmayeur ski area slopes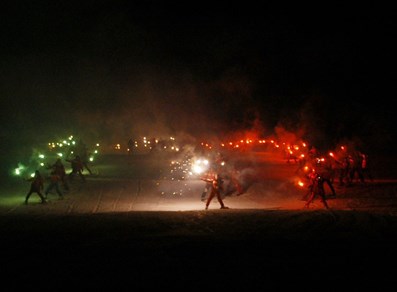 As per tradition, each winter, the Courmayeur ski instructors organize the torchlight procession, an event that takes place at nightfall on the return slope of the ski area.
The ski instructors with their torches form a very spectacular, luminous and long procession to wish a happy new year to their clients and to the whole community of tourists and residents of Courmayeur. December 30th is the fixed date of this recurring event that is always very popular.
Admire the evocative end-of-year torchlight procession of the ski instructors.
The ski area can be seen perfectly from different points of the village, in particular the Church square has an excellent point of view on the slopes. Walking along the pedestrian street at aperitif time, it is therefore possible to see this bright auspicious wake. Who would like to get closer can wait for the ski instructors at the end of the descent to Dolonne for the usual exchange of wishes.
auspicious torchlight procession of the end of the year
suitable for young and old
no cost
Contact
Scuola di Sci Monte Bianco
Strada Regionale, 51
11013 COURMAYEUR (AO)
Telephone:

0165 842477

E-mail:

Internet: