Great Saint Bernard
The Great Saint Bernard Valley, the Valpelline and the Ollomont Valley present landscapes of alluring, wild beauty, as well as authentic examples of local traditions; in summer, the Great Saint Bernard Pass offers a traditional route into Switzerland, as an alternative to the tunnel.
The mountain pass linking Valle d'Aosta with Switzerland reopens on the 3rd of June at 11:30 am. From the 2472 metres altitude of the Pass the road descends towards Martigny. The pass will close in October.
In Etroubles, a permanent contemporary art gallery featuring world-famous artists. Download the mp3 guide and take a look at your leisure.
The recipe for the typical Valpelline soup, made with DOP-label Fontina.
Aosta
-
10 / 11 June 2017
Sport

This two-stage race reserved for vintage cars covers a total of 208 kilometres with several timed trials and departs from the beautiful Piazza Chanoux in Aosta. The high point, both in terms of th…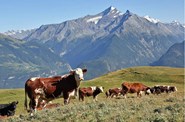 This route links some of the most important high mountain pastures where the Aosta Valley's Protected Designation of Origin cheese «Fontina» is produced. Along the trail you can enjoy stunning view…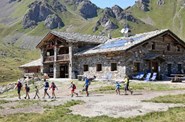 The highest stages of the route offer spectacular views over the Matterhorn, Gran Paradiso and Mont Blanc.