Great Saint Bernard
The Great Saint Bernard Valley, the Valpelline and the Ollomont Valley present landscapes of alluring, wild beauty, as well as authentic examples of local traditions; in summer, the Great Saint Bernard Pass offers a traditional route into Switzerland, as an alternative to the tunnel.
The mountain pass linking Valle d'Aosta with Switzerland reopens on the 30th of May at 11:00 am. From the 2472 metres altitude of the Pass the road descends towards Martigny. The pass will close in October.
In Etroubles, a permanent contemporary art gallery featuring world-famous artists. Download the mp3 guide and take a look at your leisure.
The recipe for the typical Valpelline soup, made with DOP-label Fontina.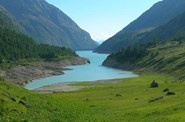 A programme dedicated to those seeking to spend a weekend in close contact with the spectacular, unspoilt nature of the Aosta Valley.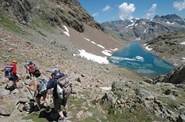 This hiking programme will take you on a discovery of the most emblematic and interesting areas in the Valle d'Aosta, all the while accompanied by a nature guide.