Gran Paradiso
At over 4000 metres high, the Gran Paradiso is the focal point of the National Park that bears its name. The mountain also lends its name to the tourist area that that includes the valleys of Cogne, Valsavarenche, Rhêmes and Valgrisenche, as well as the slopes that climb up from the valley bottom to Mont Fallère and the Vertosan Valley.
Various locations
-
17 / 18 June 2017
Entertainment and shows

The initiative, which is held the third weekend of June each year, opens the summer season of Valle d'Aosta mountain huts.

The Montblanc Gran Fondo is a bicycle road race that includes three itineraries with different lengths and particularities and a gourmet tour:

Gran Fondo route 120 km, Mediofondo route 9…
Various locations
-
12 / 16 July 2017
Sport

The Valle d'Aosta Bicycle Race is a prestigious and challenging race for good climbers. It has been a launching pad for many great professional cyclers such as: Gianni Motta (winner in 1963), Flavi…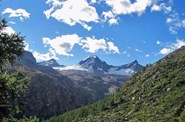 Stay in the heart of the Gran Paradiso National Park and visit of Aosta with its Roman and medieval monuments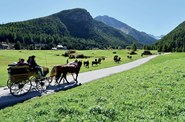 Imagine being in the mountains, dashing through meadows and woods on a horse-drawn carriage… Now you can experience this unusual adventure in the natural enchantment of the Gran Paradiso Nationa…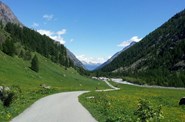 Hiking holiday at Rhêmes-Notre-Dame, in the Gran Paradiso National Park.