A week in paradise - Campus 2023
Rhêmes-Notre-Dame
25 June 2023 - 01 July 2023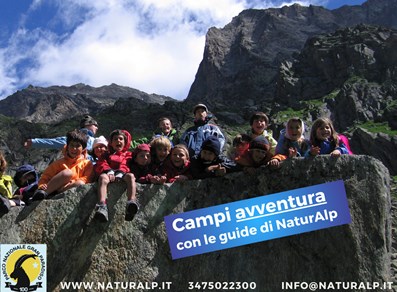 The kids will live an unforgettable experience. They will live outdoor most of the time, learn to share their experiences with the group, in close contact with the mountain environment. They will do sport activities in a place full of life and natural beauties, feel their body move in balance and freedom. The kids will play with the stream water, wake up with the mountains in front of them, look at the stars in the sky before sleeping, and learn to share all these experiences with other curious kids and adults that consider the mountain environment their choice of life.
PROGRAMME
A week of sport activities, excursions and experiences in contact with nature. This week will offer the kids the opportunity to rediscover the contact with earth following the essential rhythm of nature. The daily scheduled activities will be: mountain running ant exploration of mountain pastures, observing the typical animals of the park as chamois and marmots to discover the thousand and more secrets of the mountains with the park's wildlife experts.
The experience will end with two days and one overnight stay in altitude, at the Benevolo Refuge.
All the kids will do the scheduled sport activities together. Sometimes the group will be divided into two age classes, to achieve more age-oriented goals.
This week is recommended for kids from 8 to 13 years willing to live an outdoor experience. The participants should be willing to live a unique experience in close contact with the mountain environment, its animals and its atmospheres.
Where: Rhemes-Notre-Dame - overnight stays at the Hotel Grand Rousse and one more overnight stay in altitude at the Benevolo Refuge (2285 a.s.l.)
For information and reservations: send an e-mail to info@naturalp within the 15th May. For further or more detailed information, please contact the phone number +39.3403653595.
Contact
NaturAlp - Natura in movimento
Telephone:

(+39) 347.5022300

E-mail:

Internet: