Great Saint Bernard
The Great Saint Bernard Valley, the Valpelline and the Ollomont Valley present landscapes of alluring, wild beauty, as well as authentic examples of local traditions; in summer, the Great Saint Bernard Pass offers a traditional route into Switzerland, as an alternative to the tunnel.
Various locations
-
27 July / 24 August 2019
Tourist and cultural visits

A full day on a mountain dairy farm together with those who work there all summer, following the pace set by the animals and the mountain environment. Guided visits, lunch with typical produce…
Gignod
-
23 / 25 August 2019
Wine and gourmet festivals

A food festival dedicated to the "teteun", a characteristic type of exquisite cold meat made from cow's udders. It is processed and seasoned using a special procedure, which gives it consistency an…
Allein
-
30 August / 1 September 2019
Wine and gourmet festivals

This festival gives you the opportunity to taste culinary delights made from potatoes, including the delicacy Sorsa di Allein: a first course that obviously, as well as the potatoes, is cooked wit…
Bionaz
-
7 September 2019
Sport

Collontrek is a 22km mountain race (1250m of total climb and 1230m of vertical drop.) The route is the old path traveled for centuries by the surrounding population, including local farmers and eve…
The entire Valle d'Aosta
-
8 / 15 September 2019
Sport

The Tor des Géants, now in its 10th edition, is a race covering an entire region, running along the spectacular Alta Via n° 1 and the Alta Via n° 2 at the foot of the highest Four-Thousanders in the…
The entire Valle d'Aosta
-
10 / 12 September 2019
Sport

The Tor130 – Tot Dret is the race that joins the tougher, fascinating Tor des Géants.

Trail running competition of 30km and 2300m altitude difference on technical trails through unparalleled landscapes.
Valpelline
-
15 September 2019
Batailles de reines et de tchevre

The first edition of this unusual "bataille" was held in 1981, the year when some young breeders, true goat lovers, an animal which is actually quite combative, decided after their autumn descen…
Valpelline
-
15 September 2019
Craft/fairs/markets

Started as a livestock fair (it is the oldest in Valle d'Aosta) the "Fea de Vapeleunna" is now a showcase for traditional Aosta Valley products.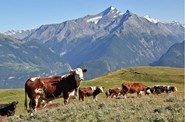 This route links some of the most important high mountain pastures where the Aosta Valley's Protected Designation of Origin cheese «Fontina» is produced. Along the trail you can enjoy stunning view…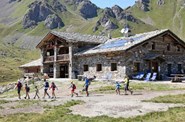 The highest stages of the route offer spectacular views over the Matterhorn, Gran Paradiso and Mont Blanc.