Great Saint Bernard
The Great Saint Bernard Valley, the Valpelline and the Ollomont Valley present landscapes of alluring, wild beauty, as well as authentic examples of local traditions; in summer, the Great Saint Bernard Pass offers a traditional route into Switzerland, as an alternative to the tunnel.
Aosta
-
8 / 9 June 2019
Sport

This race reserved for vintage cars covers with several timed trials and departs from the beautiful Piazza Chanoux in Aosta. The high point, both in terms of the race and as a result of th…
Various locations
-
22 / 23 June 2019
Entertainment and shows

The initiative, which is held in June each year, opens the summer season of Valle d'Aosta mountain huts.
Valpelline
-
23 June 2019
Wine and gourmet festivals

Three Italian villages from Aosta Valley, Emilia Romagna and Abruzzo present their typical dishes.
Doues
-
6 / 7 July 2019
Wine and gourmet festivals

In the past, polenta was eaten by our ancestors every day. Nowadays, the opportunity to eat it is slightly less frequent This festival provides the opportunity to rediscover it, cooked in variou…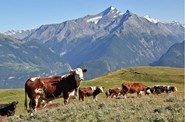 This route links some of the most important high mountain pastures where the Aosta Valley's Protected Designation of Origin cheese «Fontina» is produced. Along the trail you can enjoy stunning view…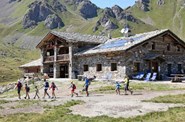 The highest stages of the route offer spectacular views over the Matterhorn, Gran Paradiso and Mont Blanc.