Lower valley and Mont Avic
An area that offers alpine environments of rare beauty, such as the Champorcher Valley and the Mont Avic Regional Park, as well as numerous surprises for culture lovers, such as castles and Roman remains, and entertainment at the Saint-Vincent Casino.
Perloz
-
19 / 21 July 2019
Wine and gourmet festivals

This festival is held around a very old wood-burning oven at the heart of the village of Marine, which is brought back to life every year for the occasion.

Festival devoted to blueberries and small fruits with meals and themed market.

"Concours Batailles de Reines" elimination phase
9:00 am weighing of the Reines
12:30 pm fights begin

Rye bread is typically found in this area and even comes in a enriched version with chestnuts, cumin and dried fruit. It is baked once a year in the town's communal oven in the hamlet of Mellier.
Champorcher
-
5 August 2019
Traditional celebrations and processions

On the occasion of the Feast of the Madonna delle Nevi at Champorcher, a procession still sets out from the village at four in the morning and heads up to the Sanctuary of Miserin, at an altitude of…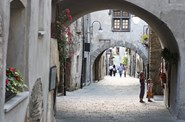 A trip around the little villages in the Aosta Valley proves a pleasant surprise. Enjoy one with this offer, which combines history and culture with relaxing and fine food.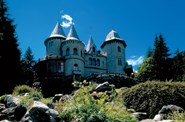 Art, history and good food come together in a single holiday package – visit the Valle d'Aosta's finest castles and enjoy its finest food.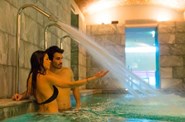 An idea for couples seeking to devote a weekend to wellness, spoiling themselves and enjoying gourmet experiences in the splendid setting of the Alps in Aosta Valley.