Lower valley and Mont Avic
An area that offers alpine environments of rare beauty, such as the Champorcher Valley and the Mont Avic Regional Park, as well as numerous surprises for culture lovers, such as castles and Roman remains, and entertainment at the Saint-Vincent Casino.
Châtillon
-
23 June / 26 September 2021
Exhibitions

The exhibition arises from a study on Giorgetto Giugiaro's correlations with Leonardo Da Vinci.
Chambave
-
22 / 26 September 2021
Wine and gourmet festivals

In this village halfway up the valley, they have been making wine for many centuries, including their famous moscato wine mentioned in certain 14th century documents. It is worth mentioning th…

As part of the ninth edition of Plaisirs de culture en Vallée d'Aoste, the Gamba Castle offers days of celebration between culture and nature.
Bard
-
9 / 10 October 2021
Craft/fairs/markets

The Marché au Fort is taking place once again in mid-October set in the charming medieval village of Bard, at the feet of the historic Fort. It is the most important and biggest food and wine even…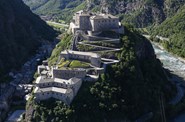 A trip around the little villages in the Aosta Valley proves a pleasant surprise. Enjoy one with this offer, which combines history and culture with relaxing and fine food.