Saint Martin parish church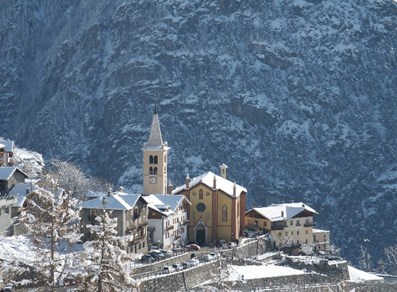 The oldest historic news dates back to 1413, however the current construction in Neogothic style dates back to 1868. The facade presents the most recent decorations inside tondos and mullioned windows. They depict: the Virgin with Child, with two angels in the pointed arched hollows and Jesus Christ in the middle. The side facade represents Pope John. The wooden doorway is overlooked by spires. The bell-tower to the right is in Romanesque style, however it was built in 1773, with lowered arch access and a bell chamber on two floors and mullioned windows. The left side includes a sundial. Inside, there are three naves marked by columns and furnished in Neogothic style, except the marble altar, which once had wooden panels.
The walls are decorated with paintings by G. Stornone from Ivrea, on tondos and canvas. The stained glass, which comes from Abbot Pron's factory (Pont d'Ane in France) on the southern wall date back to the time of construction, while the stained glass on the organ is more recent.
The central nave of the church hosts a large, sixteenth-century triumphant crucifix, which is definitely one of the most impressive works on show in the region: hugely dramatic, it appears to come from a German workshop, since the sculpture reflects the result of expression sought by the greatest German painters of the early sixteenth-century, such as Grünewald.
The Church of the Immaculate Conception, with an octagonal layout in Neo-Gothic style, is linked to the parish church. The segmented vault is decorated with pictures from between 1863 and 1868 which depict four stories of the life of the Virgin Mary interspersed with tondos of saints and a small, reniform window: The walls depict the Weeping Mother, the Adoration of the Wise Men and Jesus in the garden of Getseman.
Contact
Parrocchia di San Martino
Frazione Mongnod
11020 TORGNON (AO)
Telephone:

(+39) 0166.548204
Along this itinerary you can visit: :