Brindisi starlight evening
Sarriod de La Tour Castle - state road no. 26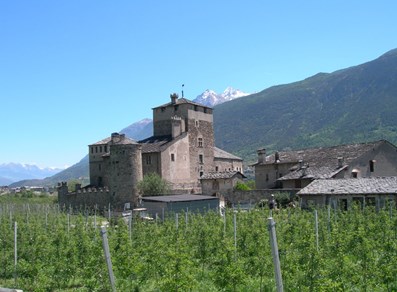 The Brindisi under the stars, a food and wine event is organised for the night of St. Lawrence on the 10 August each year. The event takes place inside the Sarrio de La Tour castle in Saint-Pierre.
During the evening, you can taste the wines from the area of Grand Paradis Mountain Community, which Saint-Pierre is part of, and dine on local dishes and specialities. The festival is characterised by the historical revisitation of the meeting, with an exchange of gifts, between the men of Sancto Petro and Sarriod de la Tour.
The tough, rural life of the Middle Ages is also represented with the reconstruction of a medieval village where ploughing, seeding, animal raising and the punishment inflicted by men via the prison in the iron cages, takes place.
The evening includes about one hundred locals in traditional costume and is livened up by various musicians whose music entertains, and brings life to songs and dance that bring together all those participating.
Contact
Pro Loco
11010 SAINT PIERRE (AO)
Telephone:

347.4602418

E-mail: