Mattinata D.O.P. - Sapori di montagna - Food and wine route
Rendezvous at Les Granges restaurant (Les Granges hamlet)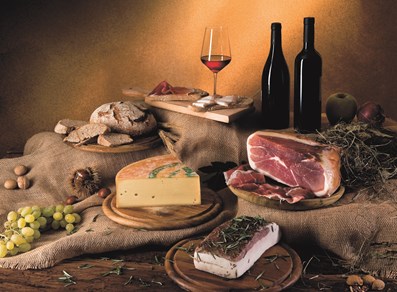 Do you fancy to discover something new and to try something authentical? Try this route and find out the caracteristics of local traditions through food and wine.
The itinerary, organized by an expert of food and wine, starts with the visit to the Fontina cheese cave, where the main caracteristics of this cheese and of other D.O.P. products (suche as Fromadzo, Lard d'Arnad and Jambon de Bosses) will be illustrated.
At the end of the tour, tastings of the illustrated foods, together with a nice glass of wine.
Activity open to everybody
Booking required
Final tasting
Activity organised by following the anticovid restrictions
Contact
Ristorante Les Granges
Loc. Les Granges
11016 LA THUILE (AO)
Telephone:

(+39) 0165.884885

Fax:

(+39) 0165.884885

E-mail:

Internet: