"Bois de La Tour" picnic area - Saint-Nicolas
Altitude (m)::

1200

km from Aosta:

17,00

Picnic tables:

29

for disabled people:

1

Grills:

7

Wells:

2

Toilets:

2

for disabled people:

1

Capacity:

170

Overall surface (m²)::

16000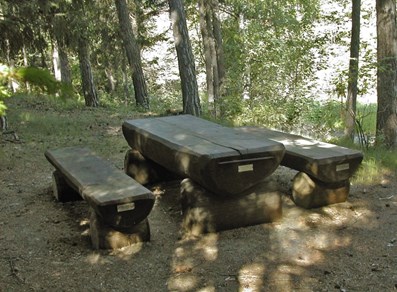 Prices
2.00 € per person, free under 15
3.00 € for the wood (6/8 kg)
VEGETATION
Woodland composed of mature Larch trees with some Red Spruce and Birch. Undergrowth composed of Juniper, Berberis, Goat Willow and Bearberry.
HOW TO GET THERE
Easy to reach, due to its proximity to Saint-Nicolas town.
AREA VIEW
The area overlooks the central valley. Starting in the South West and looking South you can see Becca del Merlo, Mount Grivola, Punta del Gran Nomenon; while Mount Emilius is located to the South East.
EXCURSIONS
• From Bois de la Tour you can cross the vineyards in the Enfer area and arrive to Arvier.
• From Saint-Nicolas town you can reach the Vens district and from here continue to Comba di Vertosan.
Contact
Comune
11010 SAINT NICOLAS (AO)
Telephone:

(+39) 0165.908814

E-mail:

Internet: