Arp Mountain Hut Restaurant
Cuisine:

Home cooking
Valle d'Aosta style

Timetable:

12:15 - 14:30

19:00 - 20:00

In summer, between June and September.
In winter, during the Christmas and New Year period.

Opening periods:

from 23/06 to 24/09

Address:

Località Pian Fret Palasinaz
11022 BRUSSON (AO)

Telephone:

(+39) 371 519 1495

E-mail:

Covers:

80 Seats outside: 25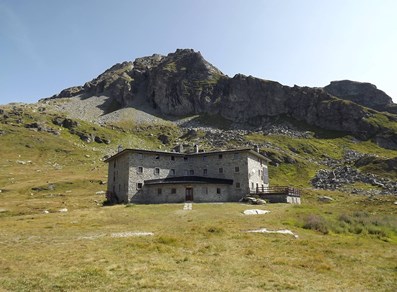 Closed from September 25th to June 22nd
Le Refuge de l'Arp est situé à 2 446 m d'altitude dans la vallée de la Palasinaz, entouré de nombreux lacs alpins, de dizaines de sentiers balisés et de sommets atteignant 3 000 mètres.
On y accède en une heure et demie à pied ou en VTT au départ d'Estoul, en traversant pâturages et bois.
Home cooking, from Aosta Valley, with local wines and products in Km 0.
Reservations are required for lunch, call +39 3481548012.
Specialities
In summer, between June and September.
In winter, during the Christmas and New Year period.
Seuppetta de Breutson
Polenta with fondue
Wine labels
Cave des Onze Communes (VdA)
Cave Mont Blanc (VdA)
La Crotta di Vegnerons Cooperativa Agricola (VdA)
Cooperative de l'Enfer Soc. Coop.
Caves Cooperatives de Donnas (VdA)
Carte di credito accettate






Services